It's HERE! The kitchen reveal is finally here! I am so excited about this one! This is where I see the most changes! First I just have to tell you why The House That Clean's itself works! I would be a liar if I said my house never gets messy! That wasn't the point of the book. The point of the book is that it will get messy but it takes minutes to clean up instead of hours! It reduces the clutter spots by 90%!!! Clutter and mess take up your precious energy! Close your eyes and think of the messiest most cluttered spot in your house…… do you feel tired just thinking about it? I did!  Now that we use the HTCI system I am free to be creative and have more time to do what I want or need to do! Picking up the house is not a chore because it takes minutes not hours!! Okay obviously I am excited about this and I want to disclaim that I make no profit from telling you about "The House That Cleans Itself", I am simply a VERY happy customer! Mindy Starns Clark makes the process easy to get your house in order and motivated to follow through! 🙂 So are you ready for this?!
The Kitchen Before…
I am completely depressed!!! Okay that is a little over dramatic but I am BUMMED out!!! I cannot find any before pictures of the insides of my cupboards and I really though I took some!!! The best I can do is if you follow this link you will see an idea of what our cupboards looked like. Not saying those are awful cupboards but it wasn't working efficiently for me. Remember my activity closet before pics?! Well think of that in the kitchen! 😉 If I ever find the before pictures, that I thought I took, of the cupboards, I promise to update this post and let you know about it 😉
The Kitchen After…
Videos…
I took these videos last night and I was WIPED OUT! So what you see is what you get! 🙂 Hope you enjoy!
Pictures…
Just need to say that I realize the fridge and wall may look a little funny in one of these pictures, I am not comfortable posting them without blacking some parts out because I have a lot of family photos on them and I prefer to keep that private thanks! 😉
Mindy speaks of using a labeler, I LOVE MINE! Can you tell? 🙂 Isn't the above pics of the baking cups CUTE?! Love that idea and I thought of it on my own! Yippie! I do hope you enjoyed this reveal and much as I have enjoyed making it! I will post more reveals in the future just keep coming back for more! If you are new to Strive For Progress then be sure to check out the "Dark and Dirty" Category for more reveals! Please comment below and tell me what you like! Ask me questions if you have any as well! Thanks! 🙂
Strive For Progress! ~Mae
This post was linked up to Simply Sensational Tuesday!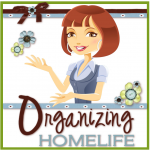 comments